Revolutionize Your Surveillance with HIKVISION DS-7732NI-M4/24P 32-ch 1.5U 24 PoE 8K NVR.Introduction: In today's digital age, ensuring the safety and security of your premises is of utmost importance. HIKVISION, a renowned leader in the field of video surveillance, presents the DS-7732NI-M4/24P NVR—a groundbreaking network video recorder designed to elevate your surveillance capabilities to new heights. With its advanced features and seamless integration, this NVR empowers you to monitor and protect your assets with unparalleled precision and efficiency.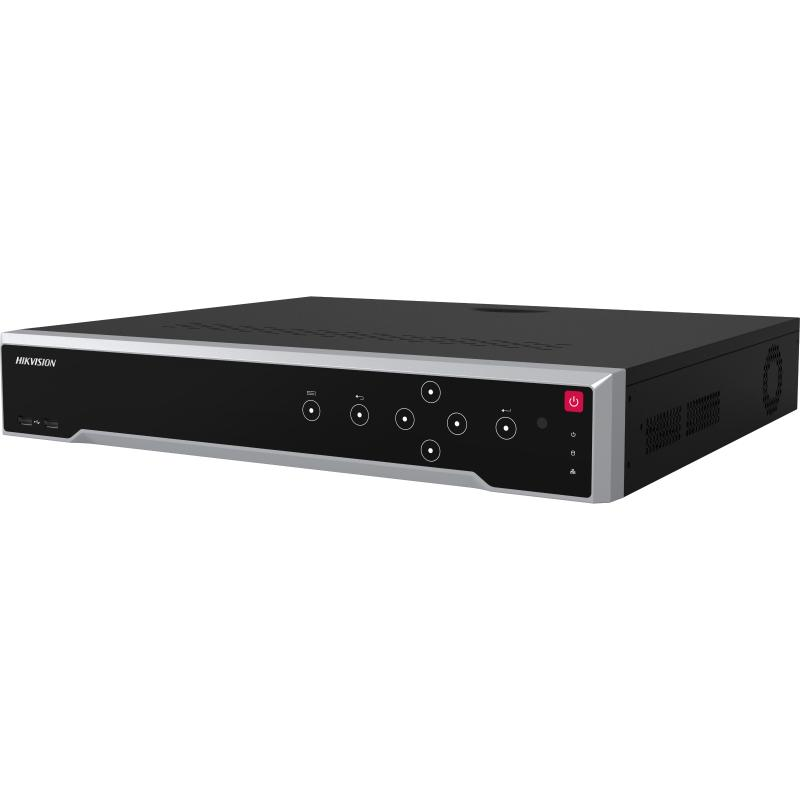 Unleash the Power of Cutting-Edge Video Compression: The HIKVISION DS-7732NI-M4/24P NVR supports industry-leading video compression technologies, including H.265+/H.265/H.264+/H.264 formats. This ensures optimized storage utilization and reduced bandwidth consumption without compromising on video quality. Experience crystal-clear footage while optimizing your network resources, allowing you to capture every detail with exceptional clarity.
Seamless Integration for Scalable Surveillance: With support for up to 32-ch IP camera inputs, the DS-7732NI-M4/24P NVR offers unrivaled scalability for your surveillance network. Whether you need to monitor a small office or a large-scale enterprise, this NVR provides the flexibility to expand and adapt to your evolving needs. Achieve comprehensive coverage of your premises and enjoy seamless integration with your existing surveillance infrastructure.
Precise Video Playback and Decoding Capability: Experience seamless video playback and decoding with the DS-7732NI-M4/24P NVR's impressive capacity of up to 32-ch@1080p. Every frame is rendered with remarkable precision, ensuring you never miss a crucial detail. Whether you're reviewing recorded footage or monitoring real-time events, this NVR delivers smooth, lag-free performance, allowing you to make informed decisions with confidence.
Effortless PoE Technology for Simplified Installation: With 24 Power-over-Ethernet (PoE) ports, the DS-7732NI-M4/24P NVR simplifies the installation process by providing power and data transmission through a single Ethernet cable. This eliminates the need for additional power supplies, reduces cable clutter, and ensures a reliable and stable connection to your IP cameras. Experience hassle-free setup and a streamlined surveillance system.
HIKD: Your Trusted Partner in HIKVISION Solutions: Partnering with HIKD, a trusted distributor of HIKVISION products, ensures that you receive the highest quality surveillance solutions. As an esteemed partner, HIKD plays a pivotal role in delivering cutting-edge technology to businesses worldwide. Benefit from their extensive range of HIKVISION products and their unwavering commitment to customer satisfaction, as they assist you in harnessing the full potential of HIKVISION's technology.
Elevate Your Surveillance to Unprecedented Levels: The DS-7732NI-M4/24P NVR, backed by HIKD's expertise, allows you to unlock the true potential of your surveillance system. Experience superior video compression, seamless integration, and precise monitoring capabilities. Safeguard your premises with HIKVISION's state-of-the-art technology and HIKD's commitment to delivering exceptional solutions.
Take control of your security—explore the power of HIKVISION DS-7732NI-M4/24P NVR and partner with HIKD to secure your future.
About Author